BUSCAR PER:
Calendar of CH. Lorilleux & Cie – Lorilleux – Mucha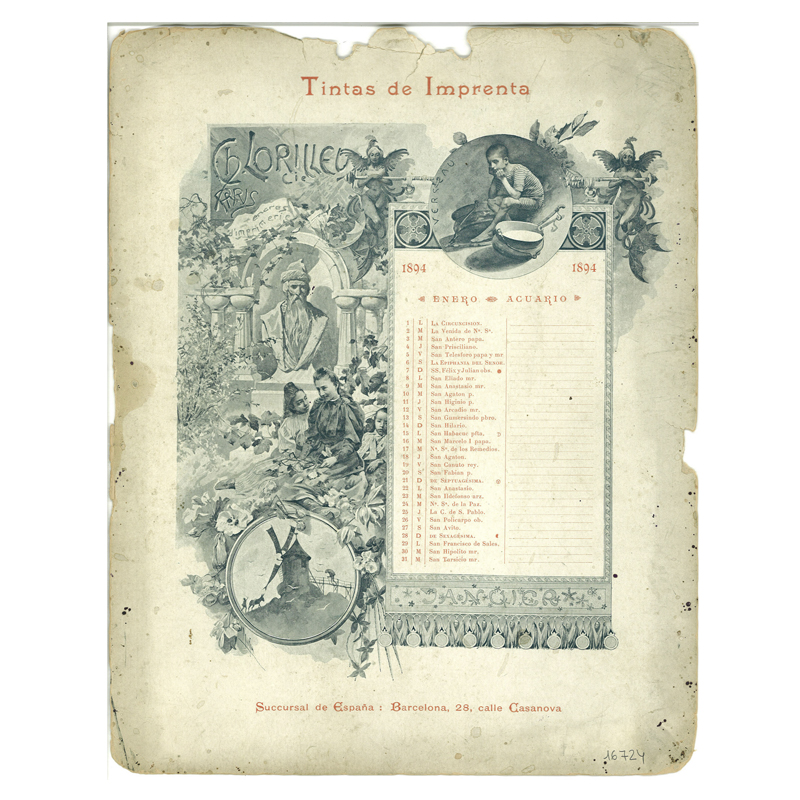 Calendar of CH. Lorilleux & Cie – Lorilleux – Mucha
1894
Pages of a calendar of the company Ch. Lorilleux y Cía., which reproduce works by the Czech artist Alphonse Mucha, a prominent poster artist, printed in two inks on couché paper. One ink is used for the background (lithograph of a Mucha design) and the other personalizes the calendar. In this case, the data of the month (with the name of the saint of each day) and the identification of the branch, which is that of Spain, with the office located in Barcelona, ​​in Carrer de Casanova.
Each month has a different lithographic drawing that always contains, at the bottom left, the trademark logo (with the Chantecoq mill, located near the French town of Puteaux) and, at the top right, a medal with the representation of the zodiac sign corresponding to the month in question.
Ch. Lorilleux y Cía., a company dedicated to printing inks founded in 1818 in the French town of Puteaux, opened a factory in Badalona, ​​on Carrer d'Eduard Maristany, in 1888. Popularly called La Tinta, it was the first company in this sector established in Catalonia and, for a few years, enjoyed a real monopoly. In fact, at the beginning of the 20th century, almost all the Spanish press used inks made in Badalona. In the second half of the same century it moved to the district of Manresà. The company had several names over time until it became part of the Sun Chemical industry group.
The Museum of Badalona also preserves a medal table of this company, assembled in the last decade of the 19th century (MB inv. 13387), donated by Sun Chemical, SA in 2011.
Material: Printed paper
Dimensions: 32,3 x 25,5 cm
Ref.: MB inv. 16724 a 16735
Altres peces del mateix període